We provide top quality, from details to systems
Product validation
In the line with Komandor's ISO 9001 procedure, each of our products designed by the engineers of the Product Department is subject to extensive control. Before it is released for serial production, it undergoes a series of extensive tests, confirming its compliance with the principles defined in the project's initial blueprint.
First class products
Komandor has no other products. Why? The care taken for the smallest detail holds the highest value. We believe that the size and success of our company depends on the smallest details. This approach provides results: the complaints are rare, and our customers are very satisfied.
Protective functions
Komandor has introduced the system of labelling the product profiles, which acts as protection from scratching and counterfeiting. Komandor products are covered with protective foil.
Efficient quality control of every detail
Coated tape or PVC lining
We test the accuracy of the colours, quality of the PVC lining, thickness of the tape, samples of the tape for peeling of the coating, resistance of the layers to harsh environmental conditions, and durability.
Aluminium Profiles handles
We test the quality of pressing, coating, profile anodising, i.e. the layer thickness, and the Profiles handle geometry according to the dimensions presented in the construction drawings.
Top and bottom connector, slider
We test the surface and dimensions of individual details, installation quality, and the durability of the elements in the system according to the initial principles.
Steel profiles
We test the shape of the profiles according to drawings and the quality of the surface.
What requirements must our products satisfy?
Compliance with the technical documentation
When we design a new product, we specify its parameters (material, shape, dimensions, colour), and extensively test the ready product.
Aesthetic and durable finishing
When a smooth and hard surface resistant to scratches is required, the product is subjected to vulcanising or anodising. These methods aim to provide the surface with not just an aesthetic appearance, but also resistance to corrosion and wear resulting from everyday use.
Wide selection of colours
We realise that the colour selection is an individual matter. Thanks to the wide range of colours of the steel and aluminium profiles , the client can adapt the Profiles handle to the filling colour of the board or panel.
How do we test our products?
Komandor products are tested 24 h / day
In a special testing and research facility.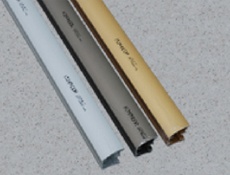 Additional protection in Komandor
was introduced with the Profiles labelling system. Every stage is covered by special procedures. The covering of the steel Profiles with foil protects the products from scratching. Additionally, we cover our products with aluminium foil with the "Komandor" name printed on it, which aims to protect from counterfeits.